This year, holiday shopping will be more digital than ever before. As consumers continue their shift to online channels and major retailers cancel in-person Black Friday sales, brands must quickly adapt through new omnichannel tactics that capitalize on surges in online traffic. Here are five strategies for doing just that.
5 Examples of Top Retailers with Brilliant Omni-Channel Strategies For Holidays
1. The Gift Recommendation Engine – Guided Selling
Digging through endless product listings, looking for the perfect gift, is a tedious and challenging process for holiday shoppers.
However, AI-powered assistants, used by leading brands like Nike Jordan and Lane Bryant, make it easy and frictionless for shoppers to find the precise gift for their recipient.
Deployed on your web site, in apps, or social channels like Facebook Messenger or SMS, these intelligent automated agents can quickly interact with users and recommend some great options:
Earlier this year, one of our customers, an Iconic jewelry brand did just that leading up to  another gift-heavy holiday: Valentine's Day. In previous seasonal campaigns using Facebook Messenger, the retailer's social managers and sales associates were swamped with the need to respond to customers' inquiries.
To address this, the retailer deployed an AI-powered conversational shopping feature on Messenger that made personalized gift recommendations at scale. They quickly found that consumers were 4X more likely to make a purchase when they receive such guided sales assistance, compared to those who are unassisted.
By clicking on a social ad, shoppers were seamlessly guided to Facebook Messenger and offered a brief interactive quiz with gift recommendations based on who the gift recipient was, the gender and the price range, selected from a group of products chosen by the retailer for those profiles. The AI-powered assistants also handled free text queries, and customers could shop for products online at the retailer's site or find the nearest physical store.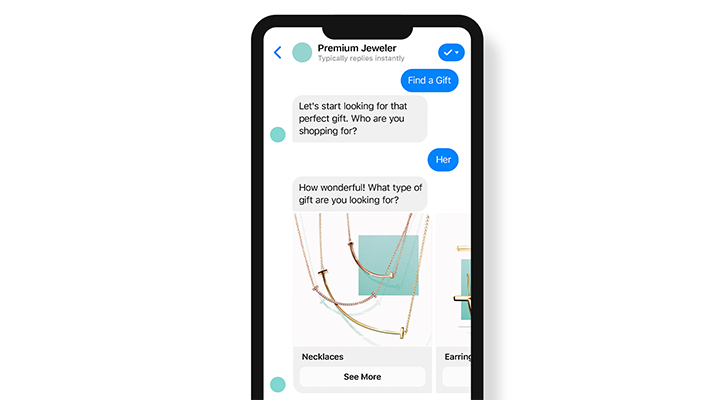 We've all had that experience when shopping for a friend, where you discover a product or item that you'd prefer to be on the receiving end of rather than giving. To address this, the iconic retailer also provided shoppers the option to send their friends and family links and images of on Messenger gifts that they want for themselves, accompanied by a small note: "Hint hint…This is at the top of my wish list."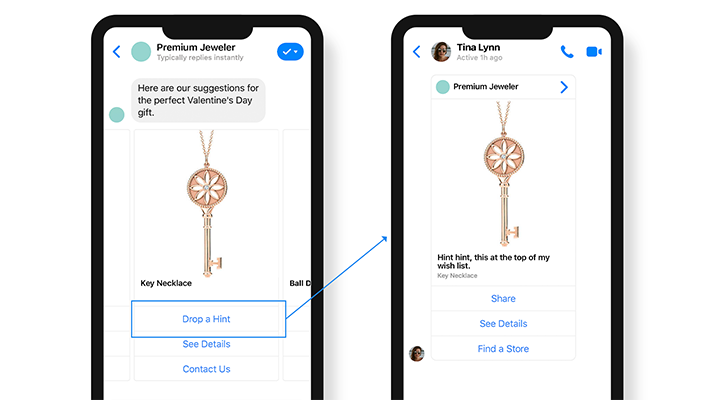 The results: Half of the quiz takers received a gift recommendation, leading to a 28x return-on-ad-spend (ROAS).
And, because AI-powered assistants love to work all the time, they also helped relieve customer service by efficiently handlings FAQs.
2. Gift FAQ & Customer Service Engine
Gifts purchased over the holidays are wrapped not only in ribbons and pretty paper but are enveloped in countless questions about sizes, style options, and prices. The season of joy is also the season of customer service, a stressful time for brands to handle the massive volume of inquiries.
In fact, 54% of customer service requests are taking place outside regular business hours. A vast number of those requests are happening on messaging platforms since those are channels that consumers already use.
That's where conversational AI comes in this holiday season. Intelligent chatbots work diligently and accurately day and night, providing a front line for all queries from customers and passing on some queries to human agents only when they get too complex. This allows your team to focus on driving sales and new purchases instead of an endless queue of customer service inquiries.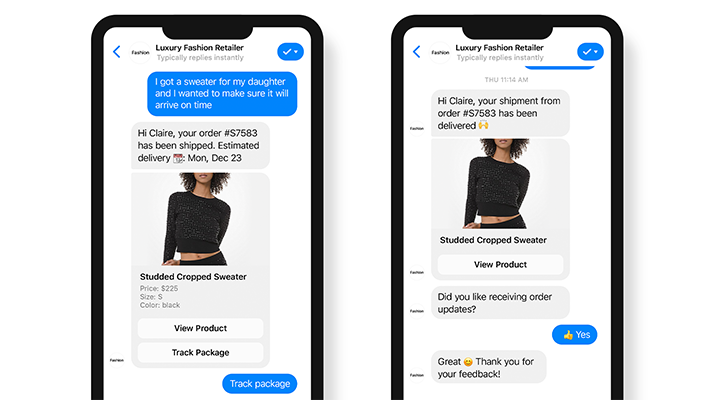 3. Digital Holiday Coupons
One of the best traits of intelligent chatbots is that they never get tired of pointing out the great holiday offers you have. This means that brands can reinvent promotions.
Regional grocery chain H-E-B did just that with their conversational AI. The grocery reinvented discount coupons by delivering them to more than 13 million customers weekly, personalized to the declared shopping needs of the recipients.
Automated notifications let customers browse the deals through button clicks or free text requests, even when they were standing in the store. The open rate for the notifications: 77%. Percentage of opened deals that were saved by users: 70%.
4. Convert Holiday Enthusiasm into Sales
Facebook is a platform designed for engagement and, during the holiday season, that engagement kicks into high gear with shoppers expressing their excitement through post-likes and comments.
This holiday season, Facebook is also offering a nice new gift for marketers. Facebook Messenger is expanding its capabilities to allow marketers to privately message shoppers who have left positive comments on their brands' posts.
All of those shoppers commenting "this looks awesome!", "I've got to get this for my sister!" can easily be turned from mere commentators into new customers. Combined with conversational AI, this opens up a whole new channel to convert positive comments into sales at scale. See this experience below: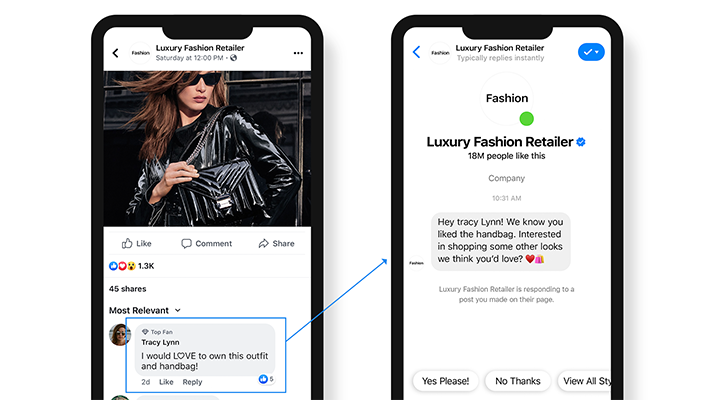 Contact our conversational experts to learn more about this experience.
5. Turn the Holiday Rush into Real Consumer Insights
The rush of consumers during the holidays is like a large polling sample that can provide tons of answers — if brands can only figure out the questions.
A rush of customers looking for this season's hot gift item, for instance, could answer a number of questions that help uncover and define your target customer persona.
But the trick is efficiently capturing holiday shoppers' information, at scale, and quickly turning it into insights.
Take California wine and spirits brand E. & J. Gallo Winery. To engage shoppers of their new Rosé product line, they developed "Rosé Your Way" AI-powered experience, which was introduced to consumers via targeted ads on Facebook Messenger, Facebook Newsfeeds, and Instagram.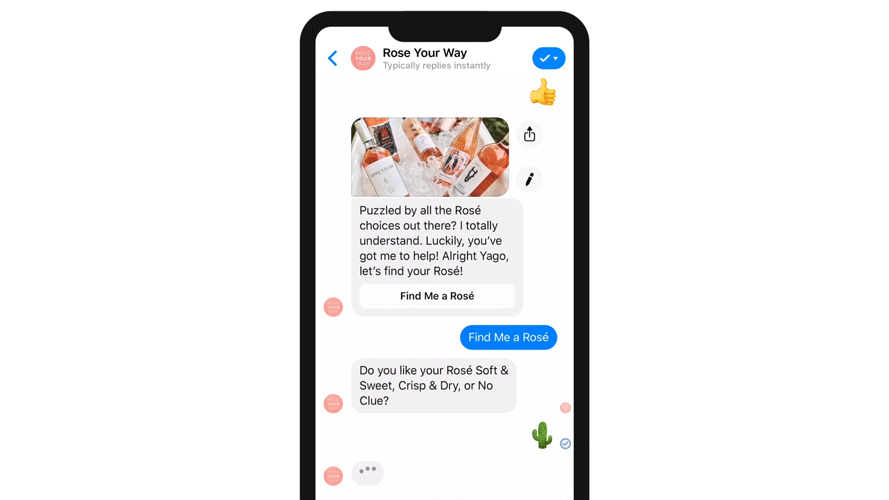 The digital assistants guided consumers through a series of questions to recommend the ideal Gallo Rosé, followed by personalized content that included the best recipes to go with the recommended wine and finished with a customer satisfaction survey.
The results: 90% of the 25,000 engaged consumers completed the Rosé recommender. Gallo was able to determine the most popular Rosé flavor preferences, drinking styles, and occasions. When follow-up push notifications were sent based on those preferences, 60% of the messages were opened.
Unwrapping It All
With some planning – and the use of intelligent, automated, always-on conversational helpers – brands can soar through the holiday season by building a dedicated fan base attracted to personalized recommendations, customized deals, and prompt customer service attention.
And, when the rush is over, the brand can quickly assess what worked, what didn't, and what was missing.
Ready to boost your sales and drive higher performance this holiday? See which strategy is the best fit for your organization. Learn more.