Modernizing Customer Experience with Order Management Automation
eCommerce businesses are continuing to experience rapid growth in online orders in 2021. As a result, customer service teams have become overburdened with a rising volume in "where is my order?" (WISMO) queries and other order-related inquiries. At the same time, consumers have also grown increasingly frustrated with long wait times and the inconvenience of using traditional channels, like phone support, that have proven to fail in meeting shoppers' expectations for immediate answers to simple, order-related questions.
To solve for both of these operational and customer experience oriented challenges, eCommerce brands must turn to automated, self-service solutions that successfully contain order-related inquiries while providing instantaneous order updates through the messaging and conversational channels that today's customers prefer. 
Here are some of the most popular examples of automated experiences that today's leading eCommerce brands leverage to provide instantaneous WISMO responses:
Automated Experience for Single Order Lookups
Automated, single-order lookups enable customers to immediately get order status information on their latest purchase through conversational channels like web chat, Facebook Messenger, SMS, and more in just 3 easy steps.
Customers simply need to start a conversation through their messaging channel of choice, enter their email to verify their account, and select "View Order".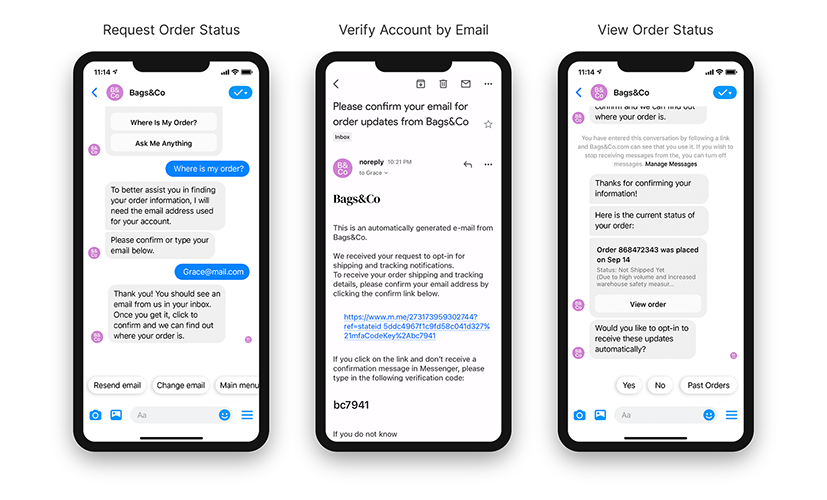 Through an integration with popular shipping APIs like EasyPost, conversational automation solutions can instantly provide consumers with their most recent order status.
Proactive, Automated Order Status Updates
Today's leading eCommerce brands also leverage proactive order notifications through conversational channels to keep their customers informed on the status of their order as it progresses towards their doorstep.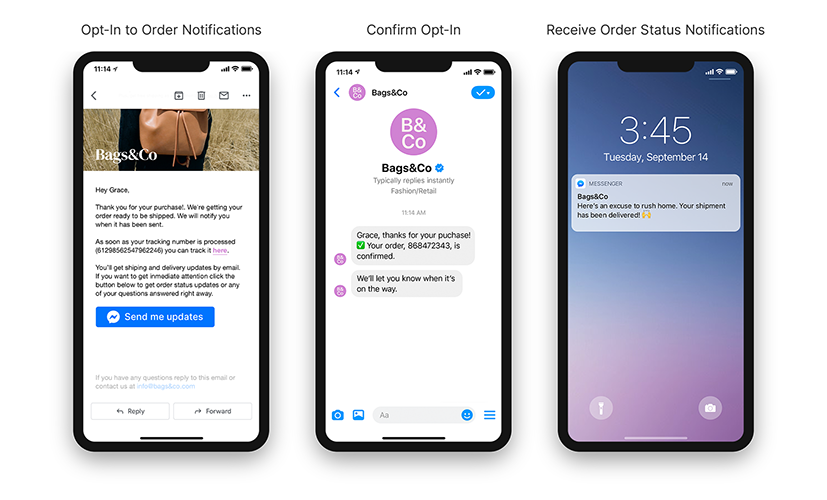 In the example above, a customer opts in to automated Facebook Messenger order status notifications from their initial order confirmation email. After opting in, the customer is sent a series of push notifications through Facebook Messenger that informs them of each change in their order status.
Seamless Transitions to Customer Service Platforms
Of course, while conversational automation is highly effective at successfully containing the vast majority of order-related inquiries, not every inbound issue can be resolved through self-service channels. For the remaining inquiries that are too complex to be solved through self-service channels, automated experiences must also be able to sync with popular Customer Service Platforms like Zendesk, Oracle, and more to provide seamless transitions to live agents.
By connecting with popular CSPs, automated experiences can greatly drive agent efficiency by verifying account information before inbound tickets reach the agent and by supplying them summaries and key details from customers' interactions with the conversational AI.
The Benefit of Providing Automated WISMO Responses
By providing customers with the option to get fast, self-service responses to WISMO inquiries, eCommerce brands like TechStyle Fashion Group have been able to successfully contain over 85% of inbound, order-related inquiries while simultaneously driving 95% customer satisfaction.
Is your brand experiencing an overwhelming volume of WISMO inquiries? Contact us today to learn how we can work with your customer service team to deploy a highly-intelligent automation solution in a matter of weeks.