6 Ways to Drive More eCommerce Sales This Holiday Season
This year, holiday shopping will shift to eCommerce like never before. Once again, eCommerce sales are projected to grow this holiday season as consumers continue to transition to cyber-week sales.
To capitalize on this season's unprecedented spike in online traffic and digital purchase behavior, top eCommerce brands are turning to automated shopping assistants that act as key revenue drivers and provide the sort of highly personalized assistance shoppers would traditionally receive from an in-store experience.
Deploying highly intelligent, automated shopping assistants during peak seasons has proven to increase sales conversion rates as high as 4X.
Here are 6 of the most common ways that leading eCommerce brands leverage automated assistants to drive more revenue during the holidays.
1. Proactive Product Suggestions
Highly-intelligent, automated assistants are capable of identifying shoppers with high purchase intent and proactively engaging them with upsell opportunities that increase Average Order Value (AOV). For example, when online shoppers add new products to their cart, automated onsite assistants can initiate a conversation and suggest additional products that are frequently purchased along with the items recently added to the cart.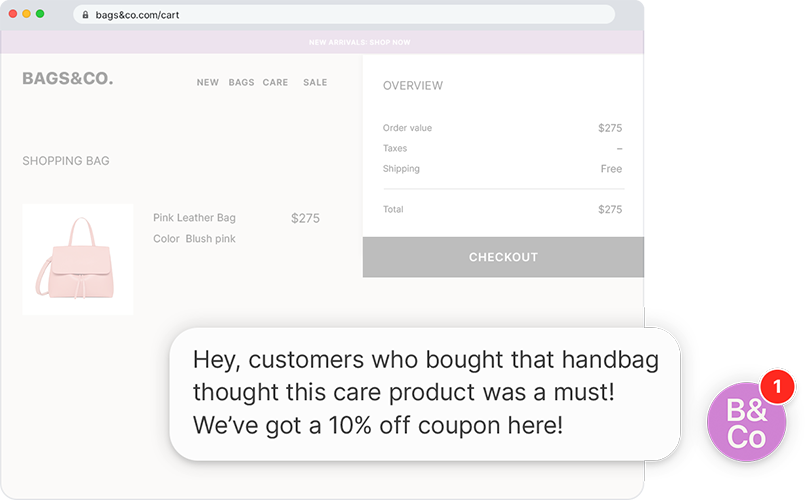 Through such highly-personalized engagements, in a conversational format, eCommerce brands can lift AOV while providing convenient suggestions that support their customers' journeys.
2. Guided Gift Recommendations
For shoppers unsure of the right gift or product to buy this season, automated shopping assistants can provide personalized suggestions that guide shoppers to the perfect holiday present. Automated onsite shopping assistants can deliver unique gift suggestions through a series of quick questions that touch on the shopper's price range as well as the gift recipient's gender, age, and preferences.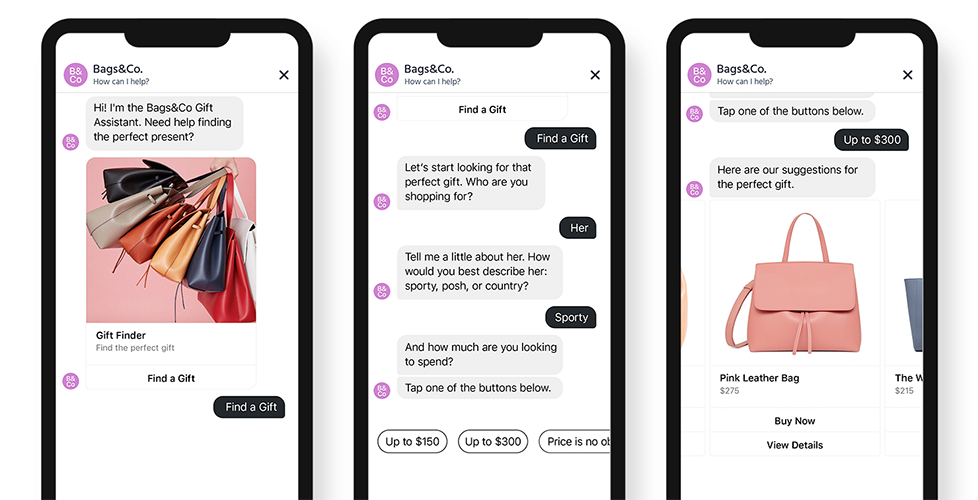 Automated gift recommendations have been proven to drive 4x higher sales conversion rates across shoppers who engage in guided sales assistance when compared to unassisted shoppers.
3. Simplify Repeat Purchases
eCommerce brands can also leverage onsite assistants to make the repeat purchase process as seamless and straightforward as possible. By developing persistent profiles based on each shopper's personalized data and repeat site visits, intelligent shopping assistants can proactively initiate new conversations with returning customers looking to make a repeat purchase.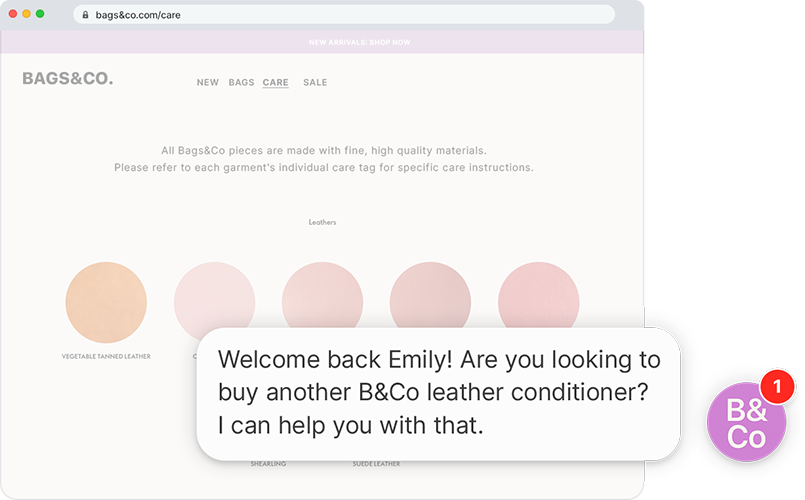 By leveraging personalization data to identify and engage repeat customers, eCommerce brands can significantly reduce friction and provide a premium shopping experience for their VIP and returning customers with high purchase intent.
4. Reengage Cart Abandons
As holiday shoppers contemplate a variety of different offers and products, it's inevitable for some online purchase processes and shopping carts to be abandoned. By leveraging conversational re-engagements, however, high-intent shoppers can be reminded of products waiting in their carts and be offered special discounts that nudge them into returning and completing their purchase.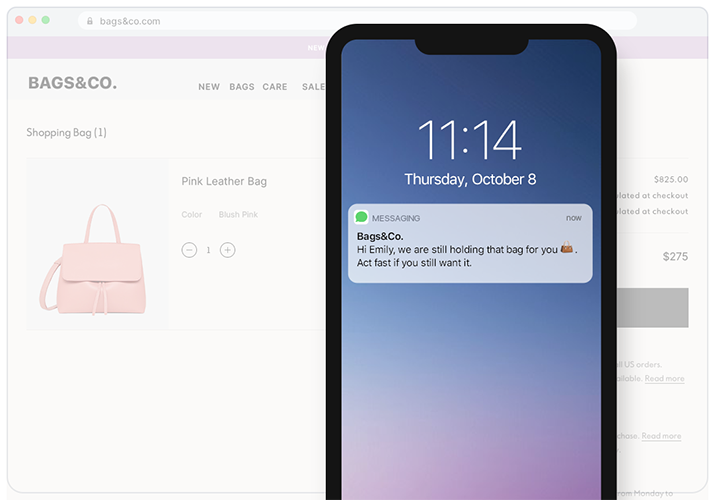 By leveraging conversational automation to re-engage abandoned carts, eCommerce brands have been able to effectively recover up to 20% of incomplete purchases with reminders, promotions, and other automated messages.
5. Automate Responses to FAQs
Leading up to the holidays, shoppers have no shortage of questions and concerns related to online shopping, with "will my order arrive on time?" being one of the most frequent. By providing shoppers with automated, 24/7 support that can instantly answer some of their most frequently asked questions, brands can reduce online shopping friction and common barriers to purchase.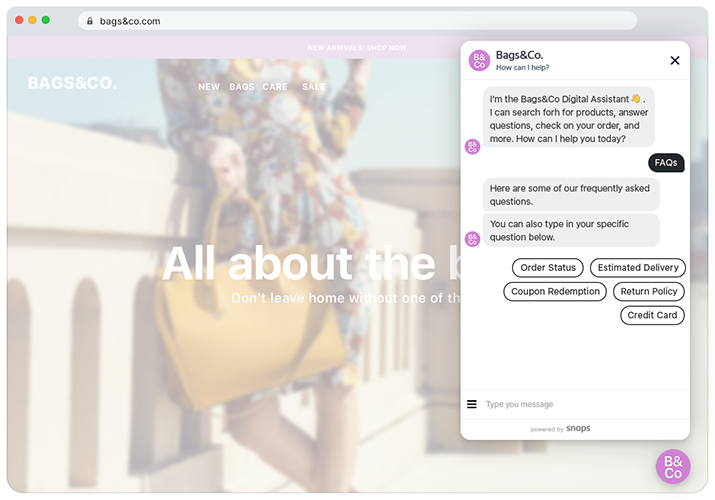 Additionally, by leveraging conversational automation to resolve frequently asked questions in a way that is entirely self-service, customer service agents that would traditionally be required to answer these questions can focus on sales-oriented initiatives during the peak holiday season instead.
6. Convert Sales Receipts into Ongoing Channel for Commerce & Care
Lastly, after a purchase is completed, brands can leverage automated shopping assistants to send digital receipts to customers through conversational channels. By doing so, eCommerce brands can convert traditional receipts into a new avenue for ongoing care and commerce.
This post-purchase conversational connection gives shoppers access to an automated channel for order management or to even purchase additional, related products.
Reinventing Online Shopping for the Holiday's Most Digital Season Ever
The 2020 holiday season will be eCommerce's most significant moment to date. More than half of US shoppers have indicated that they will not return to shop with a brand following a poor customer experience, so it is vital for CX and eCommerce leaders to deliver the best possible experience during the season's rush of new online shoppers.
Interested in deploying an enterprise onsite shopping assistant for your brand? Contact us today to learn how you can deploy a bespoke solution for your website and other conversational channels in a matter of weeks.